Meet Dr. David Veeneman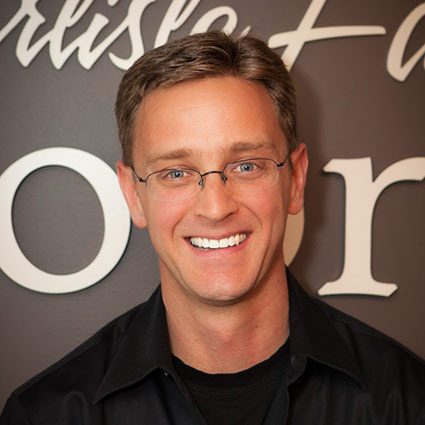 I never gave chiropractic care much thought. Why would I? As a young athlete, I stayed in pretty good shape, enjoyed relatively good health, and never thought much farther ahead than next season. Most of my experience in health care was visiting emergency rooms for stitches and sprained ankles.
I equated health with being injury free. When I did get injured, Advil or Tylenol numbed the pain and a course of physio gave me therapy and exercise necessary to rehabilitate the problem area. The goal always seemed to be to get back to the shape I was in prior to getting hurt. Wow, talk about short term thinking! It would be years before my ideas of health and wellness dramatically changed.
My journey towards truly understanding health began during my studies at McMaster University where I completed a Bachelor of Kinesiology degree and then a Master's degree in Human Biodynamics. Finally, I attended the Canadian Memorial Chiropractic College where I won the A. Earl Homewood award for excellence in research before graduating with the External Clinic Award when I obtained my Doctor of Chiropractic degree.
It was during my time in chiropractic college that I experienced an extraordinary shift in my understanding of health and wellness. The year prior to entering chiropractic college, I had been suffering from post-concussion headaches and finding only short-term relief from traditional medical care. My first ever chiropractic adjustment came shortly after starting school. Within weeks of receiving regular chiropractic treatment I was headache free! What's more, I started to notice increased energy, was sleeping better and had generally improved vitality.
I learned firsthand that our bodies have an amazing innate ability to heal and that becoming symptom free is only the first step in realizing our true potential for health and well-being.
Empowered with the knowledge that the chiropractic adjustment is a vital component of being optimally healthy, I opened Carlisle Family Chiropractic Clinic in 2002. Our mission is to ensure that people don't have to wait nearly three decades, as I did, to learn about and discover their potential for true health. In keeping with this commitment, I have continued my studies in chiropractic wellness by taking additional courses in the specialization of pediatric care.
Outside of the Clinic
My wife Andrea and I are blessed to be able to provide our two boys the opportunity to grow and develop within a wellness-oriented lifestyle from birth. Achieving wellness also involves active living so keep your eyes open and you might see me running on any given day. A passionate runner, I can often be found running the streets of Carlisle in preparation for my next marathon. If not, look for me on one of the local golf courses (probably in the trees somewhere).
Schedule Today
Contact us today to book your appointment with Carlisle chiropractor Dr. David Veeneman! We look forward to helping you achieve a healthier version of you.
---
Dr. David Veeneman | (905) 689-5100